Prices Finally Dip- Our 2022 Chicago Housing Market Predictions
Several factors are in play that are causing the outlook of the Chicago area housing market to be uncertain. Let's take a look at them:
Certain Posh Neighborhoods Still Red Hot.
In certain areas on the North Side of Chicago, it is the worst time ever to buy a home. There is one home for sale for every 2-3 buyers as demand far outpaces supply, especially for nicely rehabbed homes in good locations under $600,000. Take Lincoln Park for example, always a bellweather for Chicago real estate since the most buy and sell-side transactions take place in that neighborhood. Last April 2021, there were 88 single family homes and 404 condos for sale in Lincoln Park. This April, there were 50 homes and only 222 condos for sale. Market time dropped from 152 days to 51 days for single family homes and and from 74 to 52 days for condos. The impact? Median sale prices are up 14% for single families and 5% for condos from April 2021 to April 2022.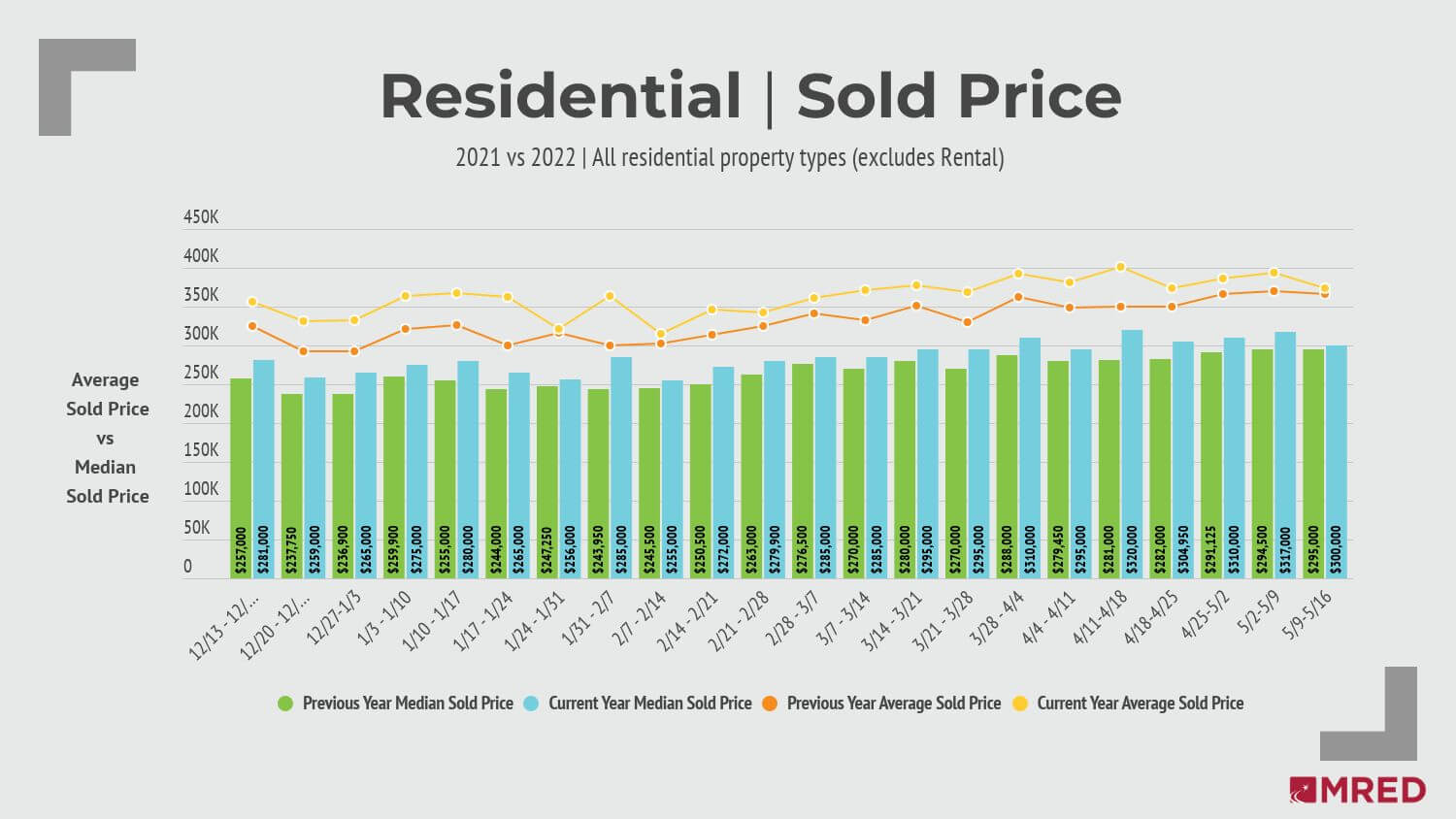 But Mixed News Overall as Chicago-wide Prices Dip For First Time.
Home prices in Chicago overall dipped slightly in April, the latest sign the sign that the month over month gains during the Pandemic have ended. The median price of all homes sold in Chicago in April was $370,000, down 1% from a year earlier, according to data released this morning by Illinois Realtors. The dip is small, but it follows three monthly reports when prices were flat compared with the year-earlier periods.
In nine of the past 12 months, Chicago home prices have been flat or slightly down. This is, to be clear, mostly a sign that prices in recent months haven't been able to rise on top of the big increases that characterized the first year of the pandemic housing boom. There were nine months when prices were up by more than 10% each month.
In contrast, the median price of homes sold in the nine-county metropolitan area, including the city, was up 4.8% from a year earlier. It's the smallest increase since the pandemic housing boom kicked in during the summer of 2020, but is considerably stronger than the city figure.
Nationwide, the median price of homes was up 14.8% from a year ago, in the 122nd month of increases.
The prime culprit in weak home price growth in the city is the condo and townhomes. The median price of single-family homes sold in the city the first four months of the year was up 1.5% from the same time in 2021, according to data released by the Chicago Association of Realtors on May 14. Meanwhile, the median price of condos and townhouses sold in that period dipped 1.9%. Attached-home sales are about two-thirds of all home sales in the city, so the direction their prices are moving exerts a lot of influence over the citywide figure.
Total Number of Sales Less Than Pandemic But 20% Higher Than Pre-Pandemic Average
In Chicago, 3,181 homes sold in April. That's a decrease of 5.3% from a year earlier, at the height of the boom. But compared to the five-year average of homes sales in April in the years before the pandemic, it's an increase of 21.5%.
In the nine-county metro area, 10,892 homes sold in April, down nearly 12% from a year earlier. Yet compared to the pre-pandemic five-year average for April, it's up 6.8%. Nationwide, home sales were down 2.4% in April from a year earlier. The source of this data, the National Association of Realtors, does not post figures that make a comparison to the years prior to the pandemic feasible.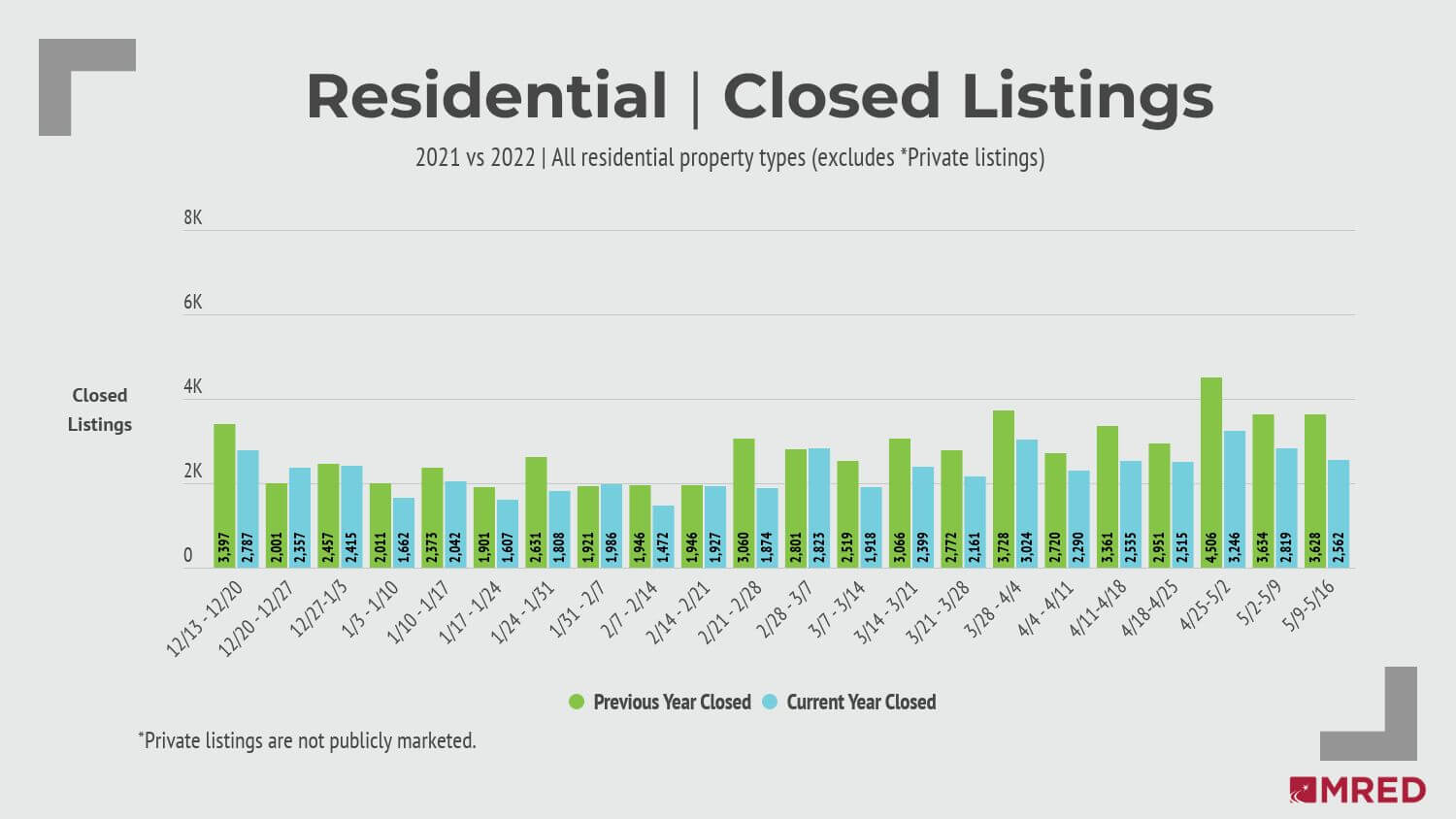 Rising Mortgage Rates Sidelining Buyers and Sellers.
Mortgage interest rates typically move up and down slowly, but this year was different. The 30-year mortgage rate went from about 3% to 5.25% in about 5 months, which is a record jump. This is similar to the drastic leap was after 9/11 when rates leaped up a half point in one day. Sellers who are locked into low rates for 30 years are opting to stay put, when faced with buying a home at premium prices (above list price) and jacked up interest rates. Buyers are heading to the sideline as well, when they see their monthly mortgage payment rise $500 a month from when they began New Year planning to buy a home.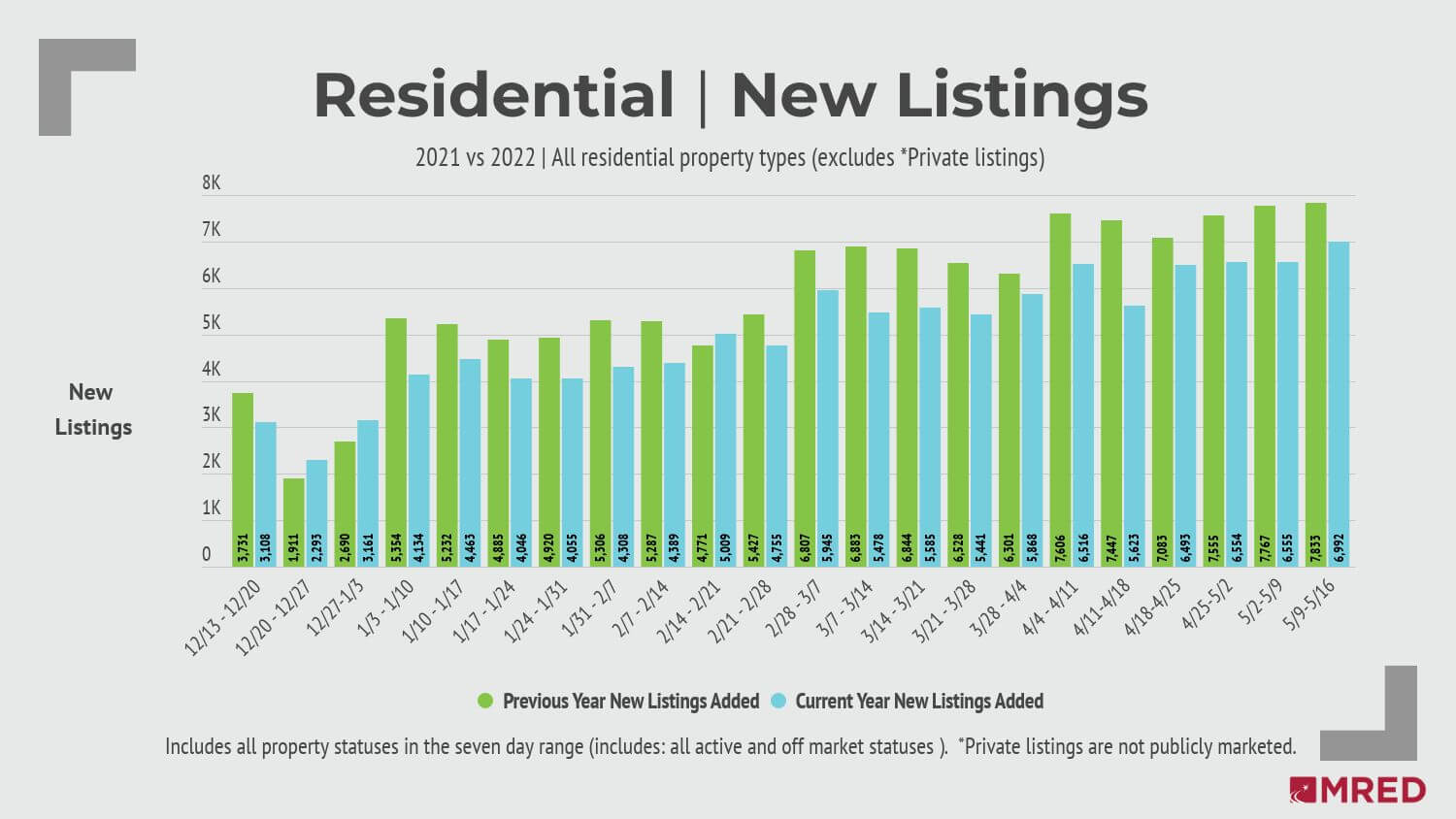 Chicago Real Estate Predictions going into the Summer
Most experts who have chimed in on the subject are predicting continued but slower appreciation of 7% in 2022 and into 2023. From where we sit, it is hard to see a Chicago housing market that does not correct itself in a big way. On the street, we have seen crazy deals with over 10 offers and the winning offering $120,000 over list price. As data mentioned above shows, we already see signs that prices are falling and not keeping up with appreciation other big cities are having. The biggest group of homebuyers are the first-time buyers, millennials turning a median age of 35 and starting families. Inflation, and mortgage payments increasing hundreds of dollars a month most surely will impact their decisions to either offer less or not buy at all. The rapid rise in rates is recent and we will see that impact in the months ahead as the traditional buying season ends this summer. How bad will it be? The truth is that no one knows…most agents are in denial as they continue to make tons listing homes and even the Chief Economist for the National Association of Realtors did not predict the last housing crash.
To get the latest in depth market reports, for Chicago's neighborhood and suburbs just fill out your information below