Many of our clients want to know information about Chicago's various neighborhoods. Today we are making our first post in our soon to be regular blog segment called "neighborhood profiles". To start things off we will be featuring one of Chicago's most popular neighborhoods, Lincoln Park.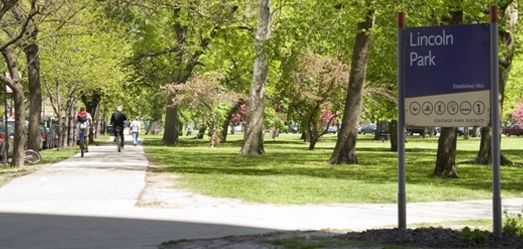 Neighborhood Summary and Demographics
Lincoln Park is one of Chicago's most popular neighborhoods, located on the north side of the city, just 2.5 miles from the Loop, Chicago's central business district.
Lincoln Park is a mostly blue-collar neighborhood with a median household income of around $86,000 per year and an average age of 31-32 years old. In this neighborhood you'll find single young professionals, families, and college students.
With easy access to Lakeshore Drive, as well as the Chicago CTA's Fullerton and Armitage train stops, the neighborhood provides an easy connection to the rest of Chicago and beyond.
Attractions in Lincoln Park
Bordered by Lincoln Park (the neighborhood's namesake) and Lake Michigan to the East, the Lincoln Park neighborhood is a hotbed for outdoor activities, ranging from beach volleyball at North Avenue Beach to strolls through the park itself, and the Lincoln Park Zoo and nearby nature conservatory. Active shopping and nightlife highlight the Lincoln Park neighborhood as well. Armitage Avenue is home to a variety of small boutiques and high-end retailers. Clark Street features a variety of ethnic and local restaurants sure to meet the needs of any discerning foodie, while Lincoln Avenue sustains many of the local pubs, night clubs and sports bars, running past the DePaul University Campus in the center of the neighborhood. Additionally, many of the Chicago's best theaters and music venues are a short walk from anywhere in the neighborhood.
Real Estate in Lincoln Park
Lincoln Park is full of historic homes (some of the earliest dating back to the late 1800's) as well as new construction. A walk through some Lincoln Park streets is a lesson in Chicago architectural history. Armitage Avenue boasts a large number of buildings with turrets and Queen Anne architecture, a style brought by German immigrants to the neighborhood in the late 1800's. You'll also find an abundance of beautiful brownstone and graystone three and four flat buildings throughout the area, as well as contemporary condominiums, high-rise residential buildings towards the lakefront, and single-family townhomes. Most Lincoln Park residential streets show the neighborhoods historic charm with it's shaded streets and wrought iron fences throughout.
Prices for Real Estate in Lincoln park can range from the $100,000's for a single studio to $3-4 Million to a 4-5 bedroom townhouse with a garage. The median price for a one to three bedroom unit in Lincoln Park is around $435,000
Schools in Lincoln Park
Lincoln Park is home to some of the best Elementary schools in the city. The two public schools in the neighborhood; Lincoln Elementary School, and The Newberry Elementary Math and Science Academy consistently rank towards the top of the Chicago Public School System (also achieving ranks of 10/10 and 9/10 on Goodschools respectively). For families with older kids, Lincoln Park High School is also ranked as one of the top public schools in the city (8/10 on Goodschools). Lincoln Park is also home to two private schools, The French American School of Chicago, and Francis W. Parker School. Lincoln Park is also home to DePaul University, a highly ranked private Catholic University.