Need some advice on the who's, what's, and when's of buying a home? Consult this timeline for tips about getting it done right.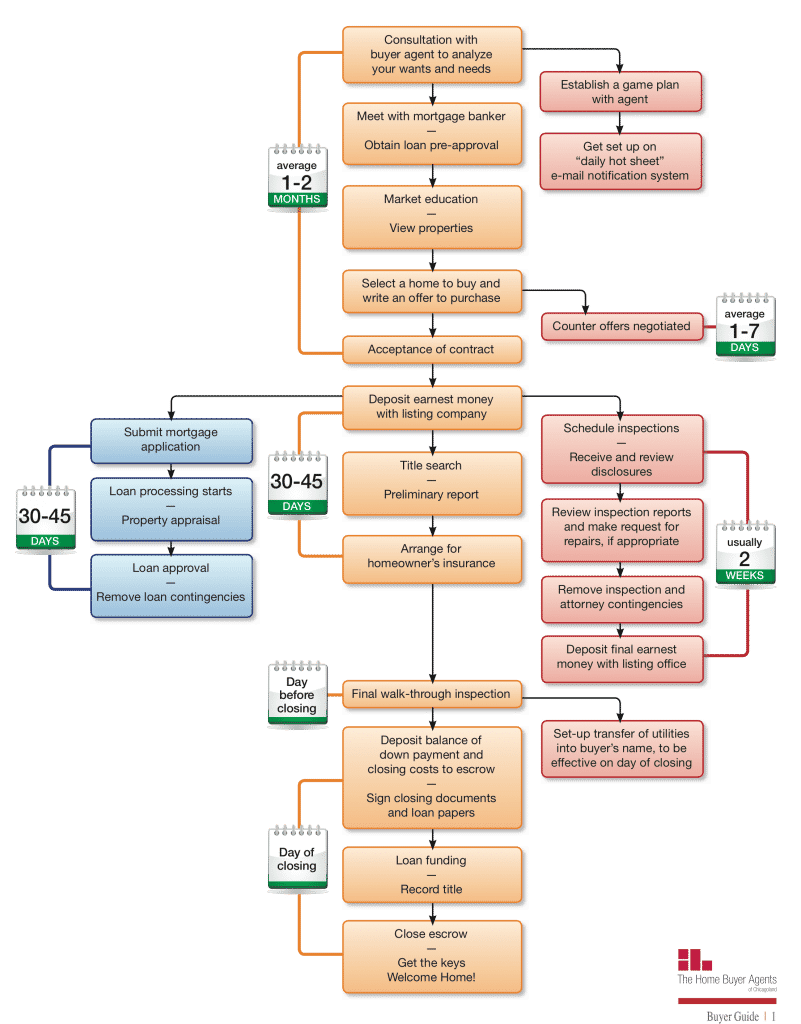 Getting started
First thing's first, get in touch with a trusted buyer agent to work with you throughout this sometimes tricky process. They can analyze your wants and needs, and translate them into a working game plan. Setting up on the "daily hot sheet" email notification system will also make the tasks ahead a little bit easier to tackle.
The second important member of your "team" will be a mortgage banker, and you'll want to obtain a loan pre-approval as soon as possible. Once you're pre-approved and your budget is established, it's time to study the market. Using your buyer agent as a guide, take as much time as you can afford in learning about the options available to you.
Once you feel comfortable with an option, make an offer!
A negotiation will take place, sometimes painlessly, other times lasting up to a week. Once the contract is finalized, you can accept it, and move onto phase two!
Months three and four
When the contract is accepted, you'll need to pay some "earnest money" to sure things up. The amount you'll pay up front ranges depending on the market and market conditions, and on information turned up in disclosures/inspections, but it should not rise above 2 or 3 percent of the offer amount. This information should be expressed before signing the contract.
Paying earnest money launches a number of simultaneous tasks, all-in-all lasting around a month and culminating in "closing".
The pre-approval will have to become an actual loan with an actual mortgage, so now's the time to submit a mortgage application with the bank and begin processing your loan! After the property appraisal and between 30 and 45 days, the contingencies should be removed from your loan!
At the same time you can arrange for necessary home inspections and review disclosures made by the previous owner. If repairs are necessary, and you'd like for the previous owner to handle them, lawyers may become necessary in this two week process. At its end, assuming any disputes are resolved amicably, the final earnest money will be paid.
A title search will be run, bringing up documents that pertain to the property, and a preliminary report will be issued. The preliminary report will offer information about the property that may not be obvious, and can influence your future homeowner's insurance. Ultimately, assuming the preliminary report is acceptable, a homeowner's insurance policy should be built after it comes in!
On the day before closing, you'll perform a final walk-through inspection, and set up the transfer of utilities from seller to buyer on the day of closing.
Closing
On closing day, the down payment and closing costs (outlined in the contract) are deposited into escrow, closing documents are signed, and loan papers are completed. The loan will now be "funded" (in other words, money will actually exchange hands from the bank to the buyer), and the land title will be properly and publicly recorded. Finally, escrow is closed, and the deal is done!
Collect the keys, and enter your new home!