The NEMA Tower is Chicago's tallest rental only building. At 909 feet, the near south side skyscraper is the city's 8th tallest building overall and the 277th tallest building in the world. Uruguayan architect Rafael Viñoly's 76-story development is located at 1210 S Indiana Ave, Chicago, IL 60605. The building sits right next to the iconic Grant Park, cementing it as an important new feature of Chicago's classic American skyline.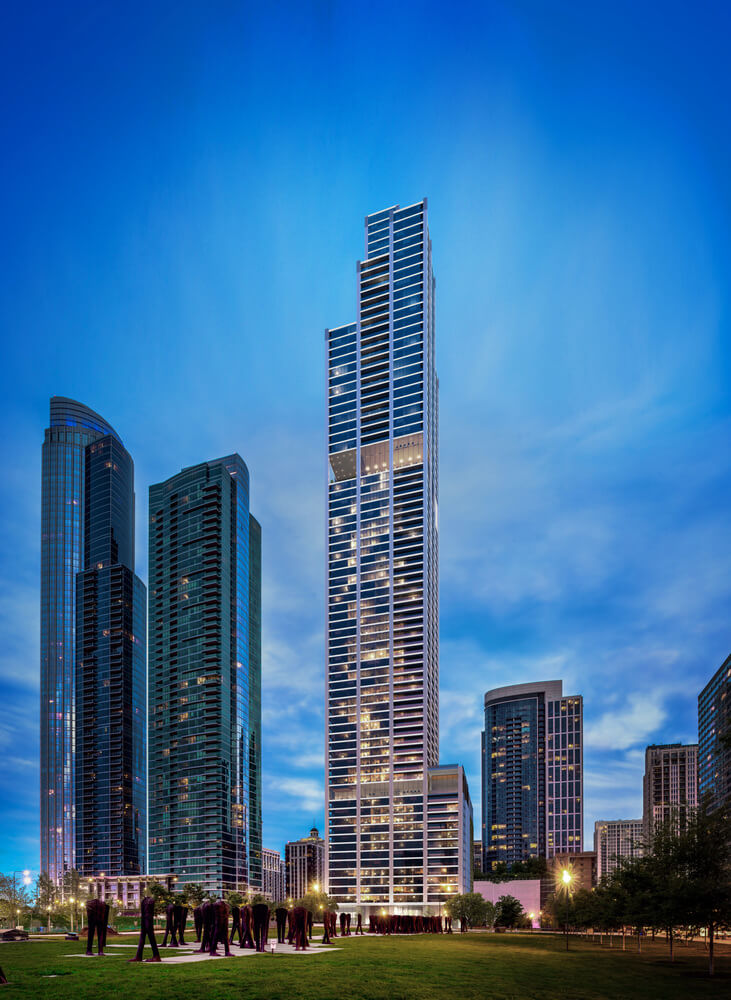 On their website the Miami-based developer, Crescent Heights, touts an architectural soul that is distinctly "made in Chicago". While the NEMA brand can be found in San Francisco, Boston, Seattle, and Miami, Viñoly's particular design pays homage to Chicago's architectural tradition.
NEMA achieves its size and shape by means of its "bundled tube" design, the same one that made Chicago's Willis (then Sears) Tower a household name. This system of building, which bundles narrow steel cylinders together to form one, larger column, reduces the amount of steel required to build large towers, eliminates the need for internal wind braces, and opens up the possibilities for a skyscraper's interior layout. The Willis Tower was the first to employ it, and its use in the NEMA construction is a direct nod to the city's influential design history. To Viñoly, a new skyscraper in Chicago is more than just a building, but an opportunity to contribute to the city's story and culture.
The view of Crescent Heights' NEMA is just as impressive inside the building as outside. NEMA contains 70,000 square feet of luxurious interior space. That includes a 10,000 square foot roof deck, with multiple pools, grills, and 65" televisions. A co-working space overlooking Grant Park offers conference rooms and a kitchenette. Life at NEMA also includes multiple recreational lounges and a kids playroom. If health and wellness are important to you, NEMA doesn't disappoint, housing a full gym, boxing ring, indoor pool, spa, and a basketball court.
Technologically, NEMA rests on the cutting edge of apartment living. It boasts an in-house tech concierge, Oculus VR headsets, a 16-screen 4K video wall, Peloton bikes, and a golf simulator with over 180 courses. Other offerings include skee-ball, ping pong, and smart elevators that algorithmically and efficiently group riders based on destination.
Units range in price from around $1,800 a month for a studio to just under $15,000 a month for a 4 bed, 4 bath unit. Each unit contains a Bosch range stove, a Whirlpool washer/dryer, and Quartz bathroom countertops, with select units featuring private outdoor patios and spacious soaking tubs. Residents also enjoy plenty of unique hospitality services, like complimentary breakfast, a dedicated concierge, an exclusive guest suite, and priority parking in Chicago's busy downtown.
So, who exactly is renting these tremendously luxurious units? NEMA hasn't disclosed the exact rental figures, but has said that units are filling faster than expected since they began welcoming tenants in May.
As for the future of luxury apartments in the Chicago Loop, this may be the start of a bigger move toward high-tech and palatial apartment living. NEMA and Crescent Heights have plans for further rental constructions near the recently finished tower. If the NEMA is any indication of the buildings to come, they are likely to impress.