Chicago Real Estate Market Update
Market Snapshot – City of Chicago
3,839 properties were sold in the City of Chicago in June 2021. This is an 85.4% increase from June 2020.
The median sales price in the City of Chicago for June 2021 was $350,500, up 6.9% from this time last year.
The City of Chicago saw listings average 59 days on the market until contract, an 28.9% decrease from June 2020.
Download our Market Reports for more details.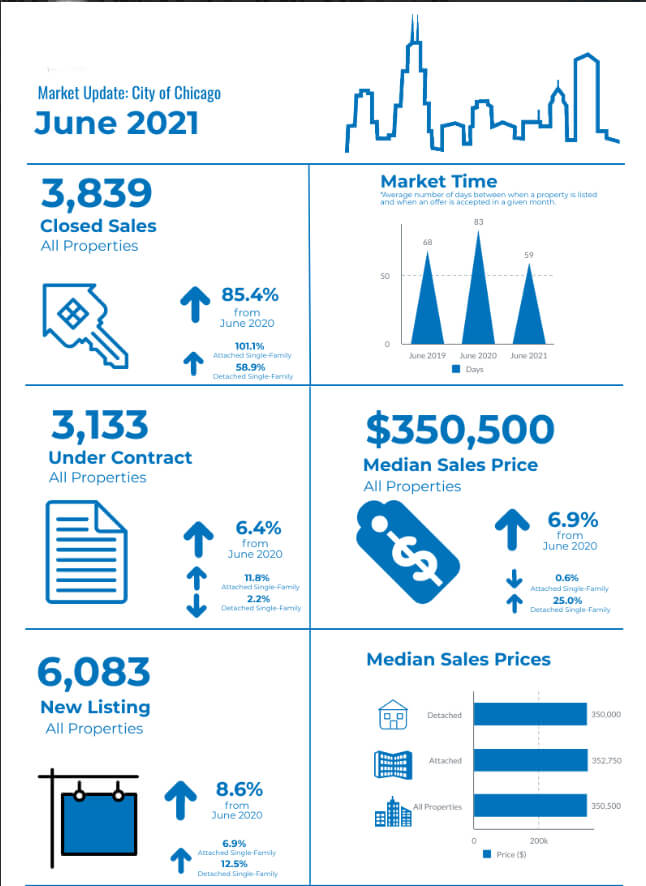 The State of the Market
School's out, and as vaccination rates rise and America enters a new normal, the U.S. housing market continues along at a frenzied pace, with low interest rates and limited inventory fueling record high sales prices. May saw the median existing home sales price exceed $350,000, a 24% increase and the largest year-over-year increase since 1999, according to the National Association of REALTORS®. Eager buyers are making multiple offers, some for well over asking price, while others are making offers on homes sight unseen.
The increase in sales prices comes with a slight decline in existing home sales nationwide, as homebuyers struggle with declining affordability amid a lack of inventory, forcing some buyers to simply wait it out in hopes of more inventory and less competition. Meanwhile, home builders are trying to meet the increased market demand, with housing starts up 3.6% in May from April, according to the Commerce Department. As we ease into new routines and look forward to a post-pandemic future, one thing remains certain: America desperately needs more homes.
"Last month, we saw many trends continue to play out, including increased closed sales and median sales prices, but the decrease in inventory and days on market could be telling a new, interesting story," Nykea Pippion McGriff, president of the Chicago Association of REALTORS® and vice president of brokerage services at Coldwell Banker Realty, said. "Some first-time homebuyers are struggling to find a home in this market while move-up buyers may be more cognizant of their budgets because of the pandemic, potentially causing them to stay in their current home; this is straining inventory further and causing buyers to jump on well-priced homes, decreasing market time. If you are considering selling your home, now is the time to call your REALTOR®!"
Housing Inventory in Chicagoland
The City of Chicago's inventory is down 4.6%, from 8,788 homes in June 2020 to 8,383 homes in June 2021.
The month's supply of inventory decreased 29.5%, from 4.4 in June 2020 to 3.1 in June 2021.
To get the latest in depth market reports, for Chicago's neighborhood and suburbs just fill out your information below