Chicago Housing: Before and After the Covid Boom and Bust
This week marks the 3rd anniversary of the Covid shutdown orders issued by the government. First, it collapsed a few months when fear took over and then went on a roller coaster ride of price appreciation never seen before, only to slow when the Fed raised rates last summer and mortgage interest rates doubled.
First, the overall picture. The median price of homes sold in the nine-county Chicago metro area in February was $290,000, according to data released this morning by Illinois Realtors. That's up 21% from the February 2020 median price, $240,000. In Chicago, the median price of homes sold in February was $312,500, an increase of 7.7% from the median price, $290,000, three years ago, immediately before COVID hit.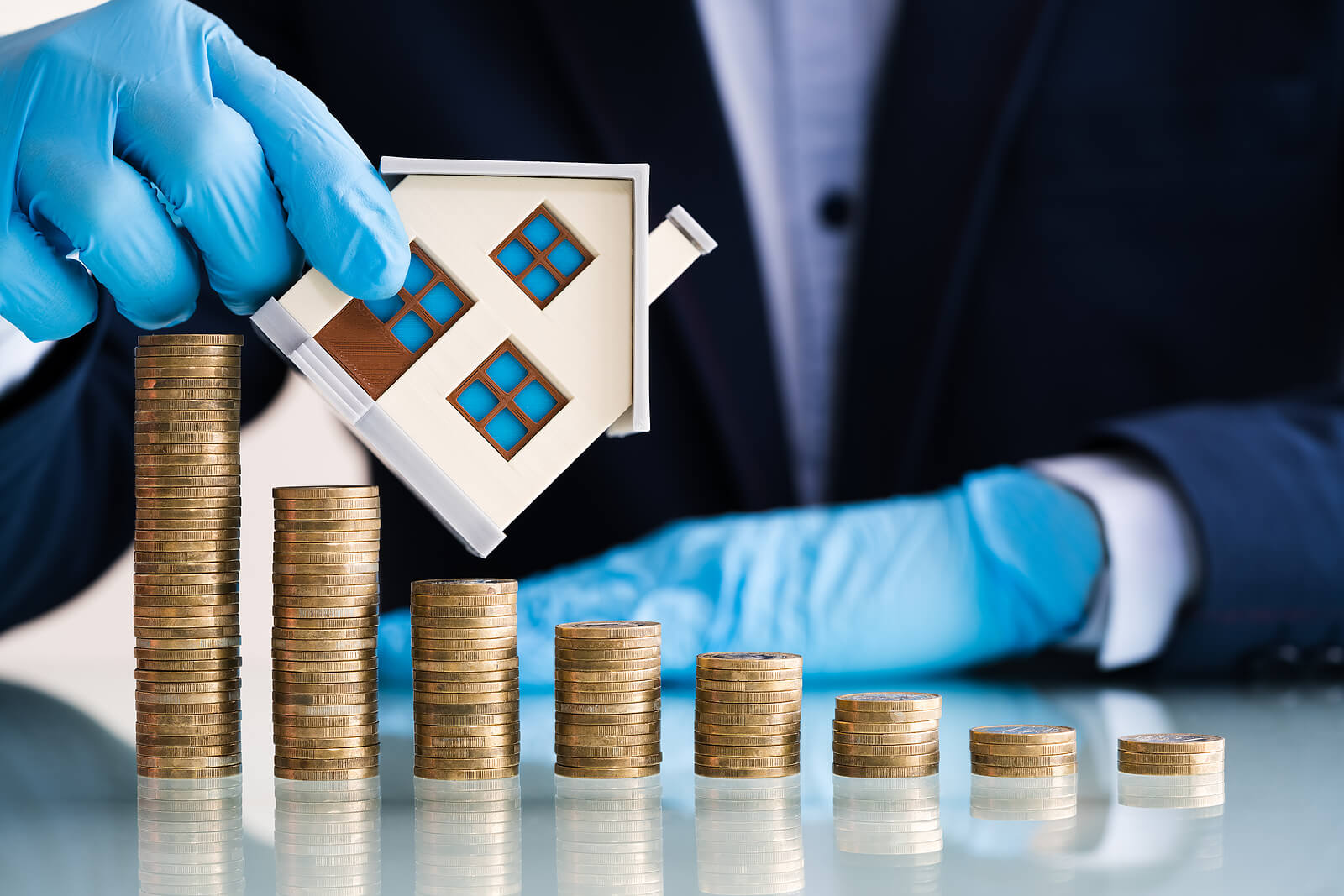 Now let's get into the weeds, where the Covid impacted individual neighborhoods and towns differently.
The charts we included below show prices in February 2020 and February 2023 for all city neighborhoods, by single family homes versus condos. Separate charts show the same February comparisons for all the suburbs in Cook, DuPage and Lake counties and most of Will County. The reports are more credible indicators of median prices in areas that had lots of February sales.
It's essential to keep in mind that for most locations on the charts, the figures show snapshots in time, immediately before and after the housing market's most dynamic stretch in decades. They do not necessarily indicate the percentage change in prices, up or down. That's because the great majority of locations had a small number of sales in the two periods, which makes a calculation of the change faulty.
The Chicago Market Before Covid
In the first two months of 2020 showed strong increases in the median prices metrowide compared to the 2019- prices were up 4.% and total sales up 8.3%. These were figures we had not seen in a while and there was excitement that real estate was recovering strongly from a downturn- but nothing prepared us for what was next.
The Chicago Market During Covid
Nothing happened in the first few months of 2020, there were few showings and no cars even on the road. Once the government and real estate associations recognized people still needed to buy homes, procedures were put in place that allowed showings again and then things went crazy.
What did buyers want? Bigger homes to work and learn in- think extra office space to hold Zoom meetings to keep their jobs or home school their children. Safer areas away from the soaring city crime- being close to the "office" no longer mattered. That sudden demand for a different type of home coincided with huge slash in rates by the Feds to soften Covid's impact.
Suddenly the pretty good increases from February 2020 paled to soaring 30% increase in sales from a year earlier and the start of the strongest stretch of growth in real estate history- 12 months of double-digit growth.
The Chicago Market in the Summer of 2022- Covid Aftermath
By early 2022, housing markets were red hot. No one could buy a home with multiple bids on everything. Inflation surged nationwide. The Fed began a series of interest rate hikes aimed at slowing it all down, and those hikes continue today. Rates on the 30-year fixed rate mortgage went from around 3% to around 7% almost overnight.
So what happened? Home prices have flattened or dropped depending on where you live. There is still pent up demand for housing and not enough homes to go around, especially on the North side condos under $500,000 where listings see multiple bids still. The big change so far is sales activity is half of what it was, as sellers stay put in there home with the 3% mortgage rate. Sales are maybe off 50-66% from the same period earlier depending on where you live. Uncertainty is paramount, buyers want to know what is coming next before they commit.
Chicago Sales, Prices and Market Times for February 2023:
1,218 properties were sold in the City of Chicago in February 2023. This is a 36.7% decrease from February 2022.
The median sales price in the City of Chicago for February 2023 was $310,000, a 3.1% decrease from February 2022.
The City of Chicago saw listings average 94 days on the market until contract, which is a 2.5% increase from February 2022.
Before and after the boom and bust: Chicago condos and townhomes
Town

2020

 

median price

2020 sales

2023

 

median price

2023 sales

Albany Park

$183,500

15

$200,000

14

Archer Heights

$0

0

$0

0

Armour Square

$499,000

1

$270,000

5

Ashburn

$199,900

1

$34,000

1

Auburn Gresham

$0

0

$106,000

3

Austin

$97,900

9

$123,000

3

Avalon Park

$0

0

$0

0

Avondale

$377,500

20

$269,500

14

Belmont Cragin

$164,000

4

$122,000

3

Beverly

$75,900

1

$126,250

2

Bridgeport

$296,000

6

$287,500

6

Brighton Park

$0

0

$0

0

Burnside

$80,000

1

$0

0

Calumet Heights

$74,500

1

$75,000

1

Chatham

$54,750

2

$58,750

4

Chicago Lawn

$76,000

1

$0

0

Clearing

$115,000

11

$155,000

7

Douglas

$107,000

8

$192,000

11

Dunning

$160,000

11

$220,000

11

East Garfield Pk

$321,000

2

$218,000

5

East Side

$102,500

2

$135,000

2

Edgewater

$193,250

68

$250,000

63

Edison Park

$170,000

9

$215,000

5

Englewood

$0

0

$22,000

1

Forest Glen

$230,000

3

$301,250

4

Fuller Park

$0

0

$0

0

Gage Park

$0

0

$0

0

Garfield Ridge

$129,000

1

$175,500

3

Grand Boulevard

$227,000

18

$290,000

7

Greater Grand Crossing

$40,000

1

$0

0

Hegewisch

$0

0

$0

0

Hermosa

$155,000

1

$297,000

1

Humboldt Park

$209,500

8

$362,000

1

Hyde Park

$155,000

35

$179,000

17

Irving Park

$221,000

26

$216,250

20

Jefferson Park

$159,576

8

$169,900

7

Kenwood

$251,250

20

$180,000

18

Lakeview

$351,632

190

$372,200

146

Lincoln Park

$545,000

115

$495,000

91

Lincoln Square

$280,500

32

$345,000

29

Logan Square

$417,500

56

$494,250

42

Loop

$320,000

67

$300,000

77

Lower West Side

$429,900

23

$532,000

4

McKinley Park

$387,500

8

$425,000

1

Montclare

$0

0

$0

0

Morgan Park

$49,650

2

$127,000

2

Mt Greenwood

$239,900

1

$100,500

4

Near North Side

$405,000

241

$370,000

265

Near South Side

$380,000

66

$390,000

53

Near West Side

$360,000

101

$460,000

95

New City

$158,700

2

$199,000

1

North Center

$458,000

28

$505,000

36

North Lawndale

$118,500

2

$0

0

North Park

$185,000

5

$240,000

7

Norwood Park

$175,000

7

$167,500

6

Oakland

$222,500

5

$327,950

2

O'Hare

$154,750

14

$167,500

10

Portage Park

$148,750

18

$165,000

6

Pullman

$105,000

1

$90,000

7

Riverdale

$0

0

$0

0

Rogers Park

$163,000

53

$187,000

45

Roseland

$0

0

$69,000

1

South Chicago

$85,000

1

$58,000

3

South Deering

$87,500

5

$114,000

5

South Lawndale

$0

0

$0

0

Sputh Shore

$75,000

29

$86,000

14

Uptown

$290,000

65

$304,350

62

Washington Heights

$0

0

$46,100

1

Washington Park

$0

0

$122,500

4

West Elsdon

$0

0

$120,000

1

West Englewood

$0

0

$0

0

West Garfield Park

$49,000

2

$0

0

West Lawn

$37,500

6

$57,000

3

West Pullman

$0

0

$50,000

1

West Ridge

$131,750

44

$145,000

35

West Town

$512,569

165

$521,500

104

Woodlawn

$168,000

16

$170,000

3
Before and after the boom and bust: Chicago Single Family Homes
Town
2020

 

median price
2020 sales
2023

 

median price
2023 sales
Albany Park

$373,750

14

$431,500.00

8

Archer Heights

$243,500

8

$247,000.00

3

Armour Square

$310,000

1

$0.00

0

Ashburn

$197,500

44

$235,500.00

32

Auburn Gresham

$160,500

42

$161,500.00

28

Austin

$190,000

56

$197,000.00

27

Avalon Park

$135,000

19

$130,000.00

11

Avondale

$435,000

11

$667,500.00

8

Belmont Cragin

$265,000

27

$295,000.00

23

Beverly

$251,500

20

$365,000.00

21

Bridgeport

$350,000

12

$837,500.00

5

Brighton Park

$218,000

5

$274,500.00

4

Burnside

$65,500

2

$70,000.00

4

Calumet Heights

$120,000

19

$158,150.00

13

Chatham

$99,000

36

$200,000.00

13

Chicago Lawn

$165,000

29

$222,500.00

20

Clearing

$239,950

20

$295,000.00

17

Douglas

$335,000

5

$520,000.00

2

Dunning

$272,500

51

$345,000.00

30

East Garfield Pk

$153,000

5

$280,000.00

2

East Side

$152,000

11

$190,000.00

5

Edgewater

$524,900

7

$730,000.00

7

Edison Park

$373,000

16

$392,000.00

7

Englewood

$41,950

16

$64,000.00

10

Forest Glen

$357,500

20

$422,500.00

18

Fuller Park

$0

0

$71,500.00

1

Gage Park

$190,550

9

$220,500.00

6

Garfield Ridge

$255,000

43

$286,000.00

31

Grand Boulevard

$549,000

13

$420,000.00

6

Greater Grand Crossing

$65,000

27

$150,000.00

23

Hegewisch

$130,000

7

$255,000.00

9

Hermosa

$279,500

6

$395,000.00

5

Humboldt Park

$282,500

22

$244,500.00

16

Hyde Park

$675,000

1

$993,750.00

2

Irving Park

$445,000

28

$575,000.00

18

Jefferson Park

$323,000

26

$299,000.00

19

Kenwood

$518,000

5

$570,000.00

3

Lakeview

$1,290,000

12

$1,289,950.00

4

Lincoln Park

$1,225,000

17

$1,634,500.00

12

Lincoln Square

$890,000

9

$1,090,000.00

5

Logan Square

$916,250

30

$985,000.00

19

Loop

$0

0

$0.00

0

Lower West Side

$477,500

2

$809,500.00

2

McKinley Park

$203,000

3

$394,000.00

4

Montclare

$284,000

14

$280,000.00

5

Morgan Park

$216,000

32

$172,500.00

28

Mt Greenwood

$218,000

25

$325,000.00

11

Near North Side

$2,250,000

7

$2,600,000.00

7

Near South Side

$0

0

$0.00

0

Near West Side

$500,000

3

$1,050,000.00

3

New City

$218,450

10

$115,950.00

8

North Center

$1,002,500

24

$1,010,000.00

11

North Lawndale

$93,000

7

$225,500.00

3

North Park

$360,000

5

$459,010.00

7

Norwood Park

$363,750

44

$339,950.00

46

Oakland

$437,000

2

$0.00

0

O'Hare

$311,000

1

$444,229.00

4

Portage Park

$302,500

35

$350,000.00

28

Pullman

$118,500

6

$35,000.00

1

Riverdale

$16,500

1

$71,250.00

2

Rogers Park

$515,000

5

$840,000.00

3

Roseland

$149,800

61

$136,000.00

48

South Chicago

$86,500

20

$183,000.00

13

South Deering

$75,251

8

$140,000.00

1

South Lawndale

$155,000

5

$210,000.00

3

Sputh Shore

$154,000

26

$95,000.00

11

Uptown

$871,250

4

$1,450,000.00

1

Washington Heights

$118,900

45

$198,500.00

26

Washington Park

$0

0

$241,000.00

1

West Elsdon

$219,950

14

$235,000.00

11

West Englewood

$82,000

15

$149,000.00

29

West Garfield Park

$110,500

6

$130,000.00

3

West Lawn

$221,500

20

$244,000.00

17

West Pullman

$110,000

31

$164,900.00

27

West Ridge

$365,000

23

$392,500.00

16

West Town

$1,032,500

18

$1,188,500.00

22

Woodlawn

$749,000

3

$365,000.00

7
Before and after the boom and bust: Chicago Suburbs
| | | | | |
| --- | --- | --- | --- | --- |
| Suburb | 2020  median price | 2020 sales | 2023  median price | 2023 sales |
| Addison | $236,450 | 55 | $260,000 | 31 |
| Alsip | $177,500 | 24 | $175,000 | 27 |
| Antioch | $218,950 | 40 | $265,000 | 43 |
| Arlington Heights | $297,500 | 126 | $342,250 | 85 |
| Aurora and Eola | $195,000 | 232 | $277,000 | 179 |
| Bannockburn | $874,500 | 1 | $0 | 0 |
| Barrington Area | $445,000 | 91 | $487,500 | 67 |
| Bartlett | $265,751 | 58 | $323,000 | 38 |
| Beach Park | $159,900 | 19 | $283,000 | 20 |
| Bedford Park | $254,000 | 2 | $404,450 | 2 |
| Bellwood | $159,950 | 32 | $234,000 | 18 |
| Bensenville | $267,450 | 22 | $274,000 | 25 |
| Berkley | $200,000 | 7 | $281,000 | 6 |
| Berwyn | $219,200 | 60 | $250,000 | 45 |
| Bloomingdale | $265,000 | 33 | $350,000 | 25 |
| Blue Island | $155,000 | 16 | $195,000 | 19 |
| Bolingbrook | $237,500 | 103 | $313,500 | 70 |
| Bridgeview | $220,000 | 11 | $240,000 | 15 |
| Brookfield | $235,500 | 28 | $275,000 | 26 |
| Buffalo Grove | $261,500 | 94 | $355,000 | 41 |
| Burbank | $228,000 | 37 | $247,000 | 28 |
| Burnham | $70,000 | 7 | $104,500 | 6 |
| Burr Ridge | $552,500 | 18 | $710,000 | 20 |
| Calumet City | $68,250 | 34 | $149,900 | 43 |
| Calumet Park | $113,000 | 10 | $106,000 | 13 |
| Carol Stream | $245,000 | 50 | $275,000 | 35 |
| Chicago Heights | $109,351 | 34 | $146,500 | 23 |
| Chicago Ridge | $110,000 | 15 | $130,750 | 20 |
| Cicero | $195,000 | 29 | $232,500 | 22 |
| Clarendon Hills | $422,500 | 20 | $685,000 | 7 |
| Country Club Hills | $94,000 | 33 | $187,810 | 36 |
| Countryside | $115,000 | 5 | $287,500 | 8 |
| Crest Hill | $183,000 | 20 | $213,500 | 30 |
| Crestwood | $121,750 | 24 | $142,750 | 26 |
| Crete | $166,950 | 24 | $219,009 | 17 |
| Darien | $277,500 | 52 | $307,500 | 34 |
| Deerfield | $394,000 | 35 | $535,000 | 35 |
| Des Plaines | $222,250 | 116 | $274,950 | 106 |
| Dixmoor | $36,200 | 1 | $161,200 | 2 |
| Dolton | $85,500 | 42 | $144,900 | 29 |
| Downers Grove | $308,000 | 103 | $386,500 | 96 |
| East Hazel Crest | $134,000 | 1 | $165,000 | 1 |
| Elgin | $189,950 | 172 | $270,000 | 164 |
| Elk Grove Village | $216,000 | 43 | $267,950 | 36 |
| Elmhurst | $379,500 | 74 | $425,000 | 51 |
| Elmwood Park | $241,000 | 26 | $225,000 | 29 |
| Evanston | $322,500 | 110 | $369,000 | 80 |
| Evergreen Park | $194,900 | 29 | $255,000 | 24 |
| Flossmoor | $209,500 | 20 | $265,000 | 11 |
| Ford Heights | $0 | 0 | $25,750 | 2 |
| Forest Park | $185,000 | 28 | $285,000 | 29 |
| Forest View | $0 | 0 | $175,000 | 1 |
| Fox Lake | $132,000 | 23 | $210,000 | 15 |
| Fox River Grove | $202,875 | 8 | $275,000 | 5 |
| Frankfort, Green Garden | $317,500 | 45 | $321,000 | 31 |
| Franklin Park | $201,000 | 22 | $275,000 | 23 |
| Glen Ellyn | $337,500 | 74 | $420,000 | 54 |
| Glencoe | $665,000 | 11 | $1,300,000 | 11 |
| Glendale Heights | $201,000 | 34 | $228,000 | 30 |
| Glenview, Golf | $475,000 | 95 | $512,000 | 67 |
| Glenwood | $127,500 | 24 | $161,500 | 13 |
| Grayslake, Hainesville, Third Lake, Wildwood, Gages Lake | $174,989 | 83 | $269,500 | 60 |
| Gurnee | $212,500 | 58 | $310,000 | 51 |
| Hanover Park | $209,250 | 52 | $268,500 | 35 |
| Harvey | $37,000 | 13 | $114,500 | 20 |
| Harwood Heights | $285,000 | 7 | $530,000 | 5 |
| Hawthorn Woods, Lake Zurich, Kildeer, Long Grove | $400,000 | 69 | $470,000 | 69 |
| Highland Park | $429,375 | 60 | $607,000 | 38 |
| Highwood | $182,500 | 2 | $650,000 | 1 |
| Hillside | $182,500 | 10 | $225,000 | 13 |
| Hinsdale | $905,000 | 41 | $937,450 | 28 |
| Hodgkins | $187,000 | 1 | $0 | 0 |
| Hoffman Estates | $255,000 | 75 | $320,000 | 53 |
| Hometown | $161,500 | 5 | $163,000 | 5 |
| Homewood | $158,500 | 36 | $189,000 | 39 |
| Indian Creek, Vernon Hills | $244,000 | 46 | $325,950 | 28 |
| Indian Head Park | $260,000 | 5 | $185,750 | 4 |
| Inverness | $521,000 | 11 | $588,700 | 6 |
| Island Lake | $154,000 | 21 | $231,000 | 11 |
| Itasca | $275,000 | 13 | $365,000 | 13 |
| Joliet | $167,500 | 205 | $225,000 | 168 |
| Justice | $188,000 | 11 | $214,450 | 8 |
| Kenilworth | $0 | 0 | $2,375,000 | 11 |
| La Grange | $385,000 | 29 | $415,000 | 25 |
| La Grange Park | $235,000 | 13 | $360,000 | 11 |
| Lake Bluff | $438,000 | 25 | $1,159,500 | 10 |
| Lake Forest | $708,750 | 52 | $825,000 | 31 |
| Lake Villa, Lindenhurst | $209,000 | 58 | $260,000 | 42 |
| Lakemoor, Holiday Hills, Johnsburg, McHenry, McCollum Lake, Sunnyside, Ringwood | $177,000 | 110 | $231,500 | 75 |
| Lansing | $119,900 | 47 | $172,673 | 44 |
| Lemont | $350,000 | 31 | $555,000 | 21 |
| Libertyville, Green Oaks | $423,000 | 51 | $480,000 | 39 |
| Lincolnshire | $510,000 | 11 | $570,000 | 13 |
| Lincolnwood | $331,000 | 17 | $327,000 | 9 |
| Lisle | $291,625 | 62 | $257,450 | 30 |
| Lockport, Homer Township | $212,000 | 66 | $285,000 | 74 |
| Lombard | $245,000 | 73 | $277,000 | 76 |
| Lynwood | $139,750 | 14 | $388,150 | 14 |
| Markham | $63,000 | 19 | $128,000 | 30 |
| Matteson | $154,265 | 43 | $230,000 | 42 |
| Maywood | $132,600 | 31 | $236,500 | 20 |
| McCook | $0 | 0 | $0 | 0 |
| Melrose Park | $195,000 | 19 | $315,000 | 13 |
| Merrionette Park | $136,500 | 4 | $36,000 | 1 |
| Mettawa | $0 | 0 | $0 | 0 |
| Midlothian | $137,293 | 14 | $167,450 | 20 |
| Morton Grove | $302,250 | 58 | $380,000 | 31 |
| Mount Prospect | $277,000 | 84 | $327,500 | 46 |
| Mundelein | $236,000 | 41 | $351,813 | 56 |
| Naperville | $380,000 | 248 | $505,000 | 171 |
| New Lenox | $292,750 | 48 | $360,000 | 49 |
| Niles | $265,000 | 48 | $306,000 | 34 |
| Norridge | $303,500 | 12 | $305,500 | 16 |
| North Chicago | $75,000 | 7 | $129,150 | 17 |
| North Riverside | $209,500 | 8 | $325,000 | 3 |
| Northbrook | $400,000 | 63 | $462,760 | 69 |
| Northfield | $459,000 | 20 | $850,000 | 7 |
| Northlake | $173,275 | 14 | $228,950 | 12 |
| Oak Brook | $675,000 | 16 | $875,250 | 20 |
| Oakbrook Terrace | $205,000 | 3 | $199,000 | 1 |
| Oak Lawn | $178,000 | 95 | $221,250 | 98 |
| Oak Park | $280,000 | 97 | $399,900 | 67 |
| Orland Hills | $216,250 | 8 | $235,000 | 5 |
| Orland Park | $248,750 | 108 | $290,000 | 97 |
| Palatine | $220,000 | 122 | $287,500 | 84 |
| Palos Heights | $256,000 | 26 | $275,000 | 21 |
| Palos Hills | $170,000 | 28 | $208,000 | 20 |
| Palos Park | $275,000 | 23 | $780,000 | 6 |
| Park Forest | $56,000 | 40 | $133,700 | 44 |
| Park Ridge | $460,000 | 61 | $465,000 | 34 |
| Phoenix | $0 | 0 | $63,375 | 2 |
| Plainfield | $255,000 | 185 | $345,490 | 145 |
| Posen | $160,000 | 7 | $180,000 | 5 |
| Prospect Heights | $220,000 | 27 | $240,000 | 21 |
| Richton Park | $147,251 | 23 | $165,000 | 15 |
| River Forest | $555,000 | 17 | $365,000 | 11 |
| River Grove | $112,000 | 13 | $262,500 | 12 |
| Riverdale | $45,000 | 11 | $98,000 | 17 |
| Riverside | $393,400 | 19 | $360,000 | 14 |
| Riverwoods | $517,500 | 4 | $540,383 | 2 |
| Robbins | $47,300 | 3 | $94,000 | 7 |
| Rolling Meadows | $177,000 | 41 | $258,866 | 26 |
| Romeoville | $196,500 | 56 | $279,950 | 54 |
| Roselle, Keeneyville | $195,500 | 38 | $265,500 | 30 |
| Rosemont, Dundee | $407,000 | 1 | $0 | 0 |
| Round Lake Area | $170,000 | 41 | $254,950 | 38 |
| Sauk Village | $58,250 | 14 | $154,950 | 26 |
| Schaumburg | $192,000 | 159 | $255,000 | 93 |
| Schiller Park | $130,500 | 14 | $267,500 | 10 |
| Shorewood | $269,000 | 45 | $309,950 | 24 |
| Skokie | $279,900 | 75 | $316,000 | 58 |
| South Chicago Heights | $132,000 | 5 | $145,000 | 4 |
| South Holland | $153,000 | 35 | $210,000 | 29 |
| St. Charles | $332,500 | 115 | $422,000 | 54 |
| Steger | $115,500 | 20 | $129,900 | 13 |
| Stickney | $252,000 | 11 | $259,900 | 7 |
| Stone Park | $161,000 | 5 | $328,500 | 4 |
| Streamwood | $178,500 | 75 | $253,000 | 42 |
| Summit | $145,000 | 1 | $265,000 | 5 |
| Thornton | $123,250 | 4 | $157,000 | 3 |
| Tinley Park | $206,000 | 120 | $265,900 | 85 |
| University Park | $120,700 | 10 | $162,000 | 7 |
| Vernon Hills | $240,000 | 45 | $325,950 | 28 |
| Villa Park | $204,950 | 38 | $259,500 | 36 |
| Volo | $252,415 | 35 | $249,900 | 9 |
| Wadsworth, Old Mill Creek | $265,000 | 11 | $343,000 | 8 |
| Warrenville | $205,450 | 26 | $249,850 | 14 |
| Wauconda | $248,521 | 29 | $251,750 | 23 |
| Waukegan, Park City | $133,000 | 52 | $189,125 | 52 |
| Wayne | $323,000 | 5 | $887,500 | 2 |
| West Chicago | $280,000 | 32 | $329,750 | 24 |
| Westchester | $245,000 | 39 | $304,500 | 32 |
| Western Springs | $571,900 | 16 | $565,000 | 15 |
| Westmont | $255,250 | 26 | $272,500 | 34 |
| Wheaton | $308,000 | 89 | $370,000 | 64 |
| Wheeling | $182,250 | 48 | $255,000 | 43 |
| Willow Springs | $200,000 | 11 | $307,450 | 16 |
| Willowbrook | $255,000 | 21 | $265,500 | 28 |
| Wilmette | $525,000 | 43 | $652,500 | 30 |
| Winfield | $322,000 | 15 | $373,500 | 18 |
| Winnetka | $939,500 | 30 | $1,690,000 | 16 |
| Winthrop Harbor | $164,000 | 9 | $189,950 | 14 |
| Wood Dale | $222,000 | 23 | $262,000 | 20 |
| Woodridge | $270,000 | 54 | $344,950 | 36 |
| Worth | $183,700 | 15 | $121,000 | 13 |
| Zion | $114,900 | 43 | $164,000 | 35 |
To get the latest in depth market reports, for Chicago's neighborhood and suburbs just fill out your information below: